Tours
The Philadelphia Brass has embarked on many regional, national, and international tours.  Recent appearances range from North Carolina, Alaska, Florida, Georgia,Virginia, Alabama to La Paz, Bolivia!
If you would like to inquire about hosting the Philadelphias Brass on tour, please contact us directly for more information.
Philadelphia Brass to tour Alabama and Georgia from October 24-29, 2016
Philadelphia Brass goes to Alaska January 2014!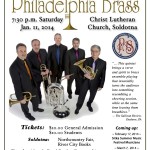 Tour to Bolivia sponsored by the United States Department of State.
Philadelphia Brass was the featured ensemble for the televised opening festival concert.
04.20.2008
5:00 PM – American Embassy of Bolivia
Bolivia
04.21.2008
10:00 AM – El Alto Music School-Workshop
La Paz, Bolivia
04.21.2008
4:00 PM – El Alto Music School-Workshop
La Paz, Bolivia
04.21.2008
4:00 PM – El Alto Music School-Workshop
La Paz, Bolivia
04.22.2008
8:00 PM – San Francisco Church
La Paz, Bolivia
04.24.2008
9:00 PM – Festival Opening Concert
Santa Cruz, Bolivia
04.25.2008
8:30 PM – Festival Concert #2
San Javier, Bolivia
04.26.2008
9:00 PM – Festival Concert #3
Concepcion, Bolivia
04.27.2008
5:00 PM – Workshop for young musicians
Santa Cruz, Bolivia